our philosophy
Regardless of age or ability, with Punta Chivo Surf Camp everybody can enjoy surfing, comfort and safety.Our main goal is to create a space where you can have fun and relax while surrounded by natural beauty. A place where you will be treated like a old friend, not a client, and have the best possible time ever in Salina Cruz Punta Chivo Surf Camp. To accomplish that we will provide you with the personal attention that you deserve and the comforts that you need. We want you to feel at home. Our Surf School is for people of all ages to safely and comfortably experience the incredible sensation of gliding down that first wave. We want you to discover the unique experience of surf culture. "Surfing is more than a sport, it's a way of life.".It keeps you in touch with nature. Once you start surfing, you'll get hooked! We are a surf camp designed for Man's and women's, you have the option to learn to surf coed or girls only!
luis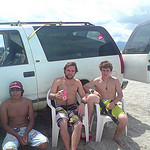 Luis spends his summers exploring, skating, fishing and of course surfing. He graduated from The Medical University UABJO. with his Bachelors in Surgery. He started surfing in 1996 and began teaching others to surf more than 12 years ago. He is proud to offer his knowledge and skills to others, who make your experience in the water a memorable one to last a lifetime. Speaks: Spanish, English
carlos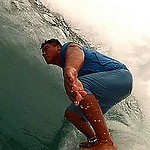 Carlos, who possesses of more than 20 years of surfing experience founded the first surf tours agency in Salina Cruz, in 1993. Besides being the first guy (with his brother luis and two friends) to surf epic waves in the famous world class wave of barra de la cruz. He's a Photographer, successful entrepreneur, and a restless globetrotter. Combining his passions. He has lived all his life in Salina Cruz however he has travelled places such as US, hiked all Baja (corner to corner, point to point), Mainland and Central America. Being a surfer and skater, he is fascinated by everything that is related to the ocean. Currently, he resides in Salina Cruz during the best season and Baja during the Winter season, a surf area he has fallen in love with. Speaks: Spanish, English, Portugues, Deutch
jose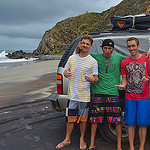 Chacarron works at the surf camp and is from a local village called Brazil. He loves surfing, fishing and cooking and this is what makes him feel at home. He´s a very nice, sociable and welcoming guy and he will do everything to make you feel like he feels himself at Punta Chivo Surf Camp.
mafer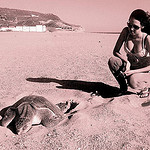 Mafer is originally from North Mexico, Sinaloa, but now living in Salina Cruz. She's been our chef & photographer since many years. A lot of the good images you see on our website are her work. If you're doing a week surf camp with us you'll probably have some nice photos to take home!!! Besides beeing funny she also likes to Surf.