surf tours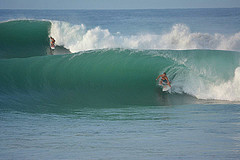 Our surf camp is very good located to have access to the spots in 5 minutes. Punta Chivo Surf Camp provides daily surf tours to the best waves along Oaxaca's pacific coastline. From the world class right handers in Salina Cruz (15 surf breaks) to others such as the famed waves at Barra de la cruz "la joya", our surf tours offer up a wide variety of breaks. Barrels, point breaks, jetty breaks, 3 lefts, rights with sand bottom. We also have access to secret surf spots that only we know about! Punta Chivo Surf Camp has it all.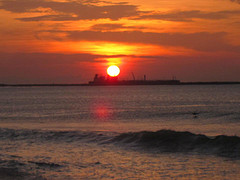 Punta Chivo Surf Camp where you are sure to get some of the best waves of your life. From the moment you start your Punta Chivo adventure you'll see the passion and enthusiasm that we have for the surfing. The beach parties, the road trips, beautiful remote beach side locations and of course the surfing! Punta Chivo Surf Camp provides surf tours of the uncrowded waves in south central and north of Oaxaca, Mexico. These long packages are ideal for guests who plan on taking care of their own accommodation, transports and extra activities, but would like to experience a progressive surfing learning experience.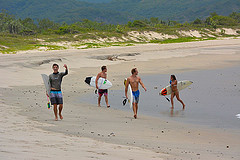 Crowds are our enemy – we know more spots and the best times to get you to them to ensure you get empty lineups as well as exclusive access to secret spots that other camps cannot go to. You will get the best guide and you will go to the best spot based on the tides and wind without having to worry about it. Your surf guide is willing to drive and that's not the case with the other camps! Our Packages includes: full accommodations and transport, all ground transfer in our 4x4 trucks ( 3 suburbans & Pick up Ram). Large group of 4 or more receives their own surf guide and 4x4 vehicle.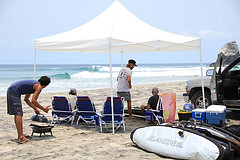 Traveling to a remote area is what makes the experience so wonderful. But it also means some items are hard to find in the area. While Puerto Escondido might have plenty of surf equipment available for purchase, it is not the case around Salina Cruz. We recommend you bring board shorts or swimsuits, sun block (highest grade possible as the Sun is strong), extra leashes, extra fins, plenty of hot water wax and rash guards. While some may want to wear spring suit in their early morning sessions, the water rarely drops below 78 degrees and basic swimwear is the way to go or most. Salina Cruz gets a variety of different conditions depending on the the size, direction of the swell and the spot you are surfing. While some waves are more suitable for longboards and fishes, you might want to venture in bigger hollower surf that will be more suited for a standard shortboard or a step up on bigger days. We recommend you check the forecast and bring all the tools you want to use!
Book Your Surf Trip Now!